Fixtures: Havoc from Boise, Idaho
<center>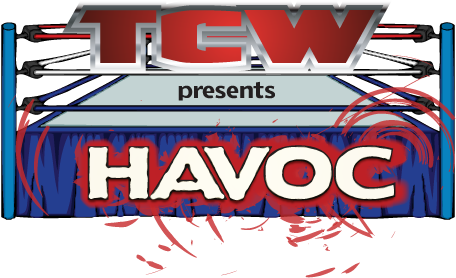 Live from the sold out Bronco Stadium in Boise, Idaho!
(Card subject to change)
Jason Dante vs Kermit
Dante holds the World title, and Kermit holds the Bleeder title. Both men have shown they're more than capable inside and outside of the ring. Kermit has money and underground connections in his favour, but Dante is no stranger to that world. On the other hand, Kermit's strange mental state may give him some insight into the twisted world of Jason Dante!
Freya vs Darkness
Darkness has been a wildcard lately, to put it lightly. He'll be facing a fellow New Hellfire Club member at Endgame, and tonight he faces another, the mysterious and deadly Freya! Will she be able to talk (or beat) some sense into her supposed ally, or will the Shadow Slayer's mean streak continue right on through Freya??
The Hammer vs Duo
The Hammer has been facing some odd obstacles as of late. Duo has been on the warpath, but failed to pick up the Bleeder Championship from Kermit. Will the former boxer be able to out-maneuver the monster Cage, or will Cage's strength dominate?
Strikmore vs KID (with Mr. Acceptable)
At Friction KID formed an alliance with his brother, JE, and mentor, Mr. Acceptable, while Strikmore was beaten to a pulp by Drakus. It's unsure at this point if Strikmore is even cleared to wrestle this match!
DeSean Blackwell vs JE
DeSean didn't fare much better than his tag team partner at Friction, being left to fend off both Freya and an enraged Darkness. With Infinity's future uncertain, will JE be able to use his new alliance to pick up the advantage going into Endgame?
Atomic Welfare vs Myra Tripp
Both Atomic and Myra found victory at Friction. At Havoc, one of them will find defeat. Will Atomic's strength be enough to overpower Myra, or will she pull another trick out of her sleeve to claim the victory?
Shi vs Aaron Keening vs Alex Dragonslayer
Two newcomers in Keening and Dragonslayer take on the assassin from the East, Shi! Will Shi's experience prevail, or will one of these newcomers turn into and up-and-comer?
William Shamrock vs Subway Jack
First Myra, and now this?!
</center>