<center>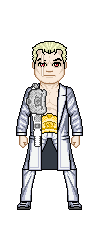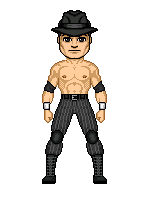 </center>
Tex: "This bout will be interesting to say the least."
Banter: "Man main frog-man Kermit's gonna have this one in the bag."
IC: "Well we'll have to see about that one."
Flash of pyro kicks off the music. Kermit enters slowly, yet determined. Focused gaze in his eyes, twisted smile on his face. Lights dim. Kermit walks slowly down the ramp.
A seed of doubt
It exists
And it grows
A glimpse of life
From somewhere deep within
Awake and understand
Lights flash at "awake and understand". Light continue to flash around the arena as Kermit makes his way down the ramp.
Sammy: "Making his way down to the ring hailing from Chicago, he weighs in at 230 pounds, he is the Bleeder champion- KEERRRRRRRRRRMIT."
Is there anyone else here?
Somebody screaming
Please help me
Let's find out now
That I am not dreaming
Welcome to my damnation
Here it comes the real me
I didn't know
I couldn't hear the answer
My mind was blank
I should have known
I hold it back but somehow
There is someone else
Another stranger me
Another stranger me
Kermit hits the ring at the start of the next verse.
That's
When the ice
Will break away
Kermit is now in the ring pacing slowly while keeping his attention to the ramp. Next verse, he is on the top of a turn buckle, arms raised.
I can't get out here
Anymore
Cause none of my keys
Fit the door
There's fear and anger
Hate and love
I must confess
It's out of hand
Kermit is taunting Dante as he is in the ring.
It's cynic
It's cynic
Still cynic
All my laughter
It's cynic
Just manic
It's cynic
All her laughter
If there's anyone in
It soon will be over
We'll burn out
Our soul's aflamed
And we're on our own now
Give up you cruel invasion
You're insane I'll show you
Tex: "Not sure how smart taunting the World Champion is..."
Banter: "Don't sweat it Kermit is the BLEEDER champ."
IC: "You bring up an actual valid point, if Kermit starts to Bleed at any point in the match the Bleeder Belt is automatically on the line."
I AM THE GOD OF HELL FIRE!"
Flames leap up to form a burning pentagram that grow slonger and as they die down slightly, two figures emerge through the floor of the entrance ramp, As the two figures have risen from the floor. Dante can be seen standing on one knee before Selenia. All during the Into of Dante's familiar entrance theme "Spit shine" by Carfax Abbey, he remains on one knee before his beloved Selenia.
I'm not too hell bent on your cradled views.
I'm not too hell bent on spit shined shoes.
I'm not too hell bent on your broken prayer.
I'm not too hell bent nor do I care.
Selenia places her hand on Dante's cheek and slowly he gets to his feet. As He and Selenia are face to face, he kisses her and turns around throwing out one arm to each side and tilting his head back as the fans chant his name.
I'm not your spitshine.
I'm not your spitshine.
I'm not your dirty whore.
Must I constantly remind you I am not the tie that binds you not your masterpiece or your reward?
Selenia and Acolyte take up position on each side of Dante. As the three begin to walk to the ring, the flames part as they leave the area marked by the pentagram. As they are about halfway down the aisle, Eubanks regains his composure and continues the introduction.
Tell me what you want from me.
Tell me who you want me to be.
Self portrait of yourself you see in me.
Don't go trying to fix me.
Not a fucking thing wrong with me.
Not some sculpture you can mould out of clay.
Sammy Eubanks: ...The 411fed and ECF unified World champion. He is a member of the New Hellfire Club and is accompanied to the ring by Selenia. Weighing in at 242 pounds, from the City of Dis in the 6th circle of hell...
I'm not your spit shine.
I'm not your spit shine.
I'm not your dirty whore.
Must I constantly remind you I am not the tie that binds you not your masterpiece or your reward?
Sammy Eubanks: This...is...JASON DAAAAAAAAANTE!
I'm not your spit shine.
I am cancer's Christ.
I'll make you little whore.
I hope you choke on my own cyanide.
Tastes like cancer on the inside.
Once I take you, then you'll be pure.
The light come back on as Dante and Selenia all enter the ring. Dante stands in the middle of what will soon become a battlefield with his beloved Selenia by side.
I'm not your spit shine.
I'm not your spit shine.
I'm not your little whore.
Must I constantly remind you I am not the bitch to bind you not your masterpiece fuck your reward!
As the song fades out and the lights come on Dante takes off his coat and hands it to the ring attendant and gives Selenia one last kiss before the match.
Kermit starts things off by tripping Dante and immediately attempting a figure four, but Dante twists out and kicks Kermit in the face with his free leg, sending him stumbling backwards. Dante kips up and whips the stunned Kermit across the ring. He looks for a clothesline, but Kermit goes low and slides right between his legs.
Tex: Kermit is a slippery devil...
Banter: You're calling Kermit the devil in this match?
Dante tries to turn, but Kermit is up and grabs a waistlock, arching backwards into a German suplex. He holds the bridge...
One...
Tw...no, Dante kicks out.
Cain: A near fall early on in this match. No doubt Kermit will keep up the pressure if he can.
Tex: Absolutely - there's a lot on the line in this match; Kermit stands to gain a lot of prestige by beating the World Champion, but he could also lose his title if he's unfortunate enough to start bleeding.
Kermit stomps Dante down and then grabs him by the head. He picks the World Champion up, but Dante elbows him in the gut and rakes Kermit's eyes before flooring him with a dropkick. Dante moves in swiftly, slapping on a side headlock. Kermit struggles in the hold for a few moments before managing to get to his feet. He sends Dante into the ropes, but gets dropped by a shoulder block on the way back. Dante switches direction and attempts a clothesline as Kermit bounces up to his feet, but the Bleeder Champion ducks.
Cain: Whoa, watch out!
As Dante spins around, Kermit tries a Kermit Kick out of nowhere, but Dante catches it on his shoulder and spins Kermit off his feet, still holding the leg.
Tex: Dante's quick reactions paid off there; he was able to reverse that deadly finisher.
Banter: Deadly? He's not trying to kill him, Tex...
Dante immediately steps over, locking in a half crab. Kermit winces in pain and struggles towards the ropes. Eventually he makes it and Dante is forced to break the hold. Kermit pulls himself upright and Dante backs up, crouching defensively in preparation for Kermit's counterattack. Kermit pauses for a second and then turns quickly, charging Dante, only to be driven to the mat with a powerslam. Dante hooks the leg...
One...
Two...
Not enough!
Cain: A close call for Kermit. Dante has been so dominant this past year and we're already seeing his experience and skill in this match.
Dante keeps hold of the injured leg though and grapevines it, wrapping it around his own limb and twisting the knee uncomfortably.
Tex: Dante appears to be focusing on that limb.
Cain: Yes indeed. That's the experience I just mentioned - Dante knows how to focus on a body part and wear it down, but where he really excels is in sheer tenacity and fortitude. No one has a will to win like Dante.
Kermit struggles in the hold, but then reaches up and pokes Dante in the eye, forcing him to release as he staggers back, holding his face protectively.
Banter: Haha, yeah, real tenacity...
Tex: Dante was wearing an eye patch a few weeks ago, if I'm not mistaken, Kermit just jabbed him in the eye that was damaged.
Kermit limps to a standing position and gives Dante a deep armdrag as he charges. He holds on with the armbar, but Dante reverses and gets his torso under Kermit so he can send him tumbling through the air with a back body drop. Dante is overbalanced slightly by the move though and falls into a sloppy cover facing upwards...
One...
Kermit gets his arm between Dante's legs and pushes him over into a cradle...
Cain: Reversal!
One...
Two...
Thr...no, Dante kicks out!
Tex: So close for Kermit there. What an upset that would have been.
Dante, enraged, surges to his feet but Kermit brings him down with an arm roll which he then turns into a cross-armbreaker. The referee checks on Dante and Kermit reaches up, grabbing the ropes with one arm and using them for leverage while the official's back is turned.
Cain: Kermit is no stranger to bending the rules. He's putting all his weight down on Dante's arm by using those ropes.
Banter: See, you talk about Dante's experience and his tenacity, but this is the real measure of a wrestler for me. If you can use the ring to your advantage, it proves you're smarter and more resourceful than your opponent and, ultimately, that's what decides the winners.
Tex: Well I don't think the match official agrees with you, Banter...
The referee turns and sees Kermit holding the ropes so the Bleeder Champion quickly snatches his hand away and holds up his empty palm. Dante takes advantage of the distraction and grits his teeth, rolling Kermit onto his shoulders into a pinning predicament. Kermit immediately grabs the ropes and Dante is forced to release the hold.
Cain: Ah, now Kermit is only too happy to grab those ropes...
The World Champion steps away from his opponent, massaging his injured arm and breathing heavily. Kermit rises gingerly, only for Dante to immediately attack with a clothesline. Kermit ducks however and back body drops Dante over the ropes to tumble down to the floor below. Kermit, seeing his foe is down and vulnerable, grabs the ropes and vaults over, flooring Dante again as he stands shakily.
Tex: A high-flying move from Kermit! He may have changed the direction of this match!
Kermit and Dante are both down, but the mobster is the first to get to his feet. He stomps Dante down as he tries to stand again and then picks the albino up by his hair. He attempts an Irish whip into the ring steps, but Dante reverses and Kermit is instead sent flying into them, colliding bodily with the metal and being sent spinning over them by the force of the impact.
Cain: Ouch, Kermit certainly felt that one. You may have spoken too soon before, Tex.
Dante quickly rolls into the ring, breaking the count, before proceeding methodically towards Kermit who now lies in a heap on the floor. He approaches him, grabbing one arm as he hauls the Bleeder Champion to his feet and then pulling it between his legs. He grapevines the other arm and lifts Kermit up onto his shoulder with the pumphandle.
Tex: Hellfire Driver on the outside!
Kermit reverses though, slipping down Dante's back and landing on his feet. He stumbles for a second as his foot gives way and then pushes Dante into the ring post. The World Champion connects and is sent spinning backwards to the floor, a trickle of blood running from his forehead.
Banter: Isn't Kermit the one who's supposed to bleed?
Cain: Well, the Bleeder Title won't change hands if Dante is bleeding, but this certainly indicates that Kermit is taking his toll on the World Champion. I think Dante may be out cold.
Kermit wastes not time, rolling Dante into the ring and quickly covering him...
One...
Two...
Thr...no! Dante rolls his shoulder up.
Tex: And that's Dante's incredible, almost superhuman, fortitude on display there! It's going to take more than that to stop him!
Kermit can't seem to believe it and backs up. He signals for the Kermit Kick and, as Dante stands, he flies at him, leg extended.
Cain: Kermit Kick!
But Dante ducks out of the way, sending Kermit stumbling across the ring. Dante doesn't miss a step as he grabs Kermit's head from behind, pulling him into an inverted front-facelock. Kermit attempts to struggle free, but Dante spins around, driving his elbow down into the Bleeder Champion's face.
Tex: Broken Reflection!
Dante rolls onto Kermit and hooks his leg...
One...
Two...
Three!!!
The crowd erupts as Dante rolls to his feet, leaving Kermit to roll towards the ropes, holding his face where Dante's finishing move landed.
As Dante straightens and massages the life back into his injured body after his gruelling match with Kermit, the Bleeder Champion swings himself out of the ring, pausing only to grab his belt before leaving up the entrance ramp. The crowd are chanting for Dante again as he is handed his World Title belts and mounts the turnbuckle, raising them over his head.
Tex: There's our Unified World Champion, folks. He's sent a message to Darkness with his performance tonight.
Cain: If tonight's matches are anything to go by, the main event of Endgame is really going to be something to...
<i> "A LIGHT...IN THE BLACK...OR JUST A FEAR...OF THE DARK...?</i>
Banter: Uh oh!
Kermit pauses halfway up the ramp and is then nearly knocked off his feet as an immense pyro explodes on the stage. He stumbles backwards as "Fear of the Dark" continues to play and, from the dying flames, out steps Darkness.
<center>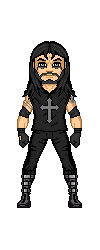 </center>
Dante now stands in the centre of the ring. He drops his belts and beckons Darkness forward. The number one contender removes his own belt, Lucifer's Championship, and holds it over his head. Kermit, stuck between the two warriors, fingers his own belt reflexively.
Darkness walks calmly down the ramp, apparently ignoring Kermit. The mobster's face clouds over though and, with a shout, he hefts his belt and swings it towards Darkness as he approaches. Darkness sidesteps the attack easily and drives his fist up into Kermit's gut, staggering him. Kermit drops his belt and attacks again, but Darkness is ready and secures his prosthetic hand around Kermit's throat before heaving him into the air and driving him down into the steel ramp with a thunderous Slayer Slam. The crowd 'ooo's in response to the virtually unprovoked attack.
Tex: Kermit is worn down after his brutal match! Darkness just sent a message of his own to Dante!
"Are you done?"
Darkness looks up, narrowing his eyes at Dante who now has a microphone. Darkness shakes his head in response.
"Well you'd better be. Or do you want a preview of the ass-kicking I'm going to give you at Endgame?"
The crowd cheers but Darkness actually laughs as he continues to walk towards the ring.
Cain: Darkness looks to be as supremely confident as ever. There's no a shred of doubt or fear in him.
"Hold it right there!"
Darkness whirls around to see, on the stage, Acid Misfit standing with another microphone. The number one contender looks from one of his stable mates to the other and back again, clenching his good fist as he suspects an ambush.
<center>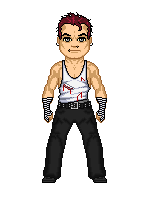 </center>
"Calm down, Darkness," Misfit tells him, "no one's planning to attack you. We haven't gone psycho like you."
Darkness's brow furrows and he bares his teeth, but Misfit continues.
"I'm here to tell you that, at Endgame, you're not going to be able to do whatever you want in that ring. We've all seen the way you've handled your opponents these past few weeks but, if what you said was true at Friction, you won't have any problem with someone there who'll be tough enough to enforce the rules of the ring."
Banter: What's he talking about?!
Darkness seems confused too, and Dante is also clearly wondering where Misfit is going with this.
"In the main event of Endgame, Darkness," Misfit explains, "there's going to be a special guest referee. A veteran of many brutal matches, a former World Champion and someone who knows you very well indeed..."
Tex: Who does he mean?
"Me!" Misfit grins and the crowd cheers.
Cain: Is he serious?! Will Misfit be involved in this match too?
"I've just come from Ms. Stern's office," Misfit tells his former tag partner, "and she agreed with me that you're starting to become a serious liability. So, at Endgame, to make sure you don't get carried away again, I'll be enforcing the rules."
Darkness's mouth twists, but then he turns and rushes straight for the ring, diving under the ropes to be intercepted by Dante. Misfit drops his microphone and charges to the rescue, only to walk right into Kermit who drops him with the Bleeder Title.
Banter: Oops!
Tex: Kermit just drilled Misfit with that belt! He'll face Freya at Endgame and, after what he just went through with Dante and Darkness, it looks like he doesn't care which member of the NHFC he attacks!
In the ring, Darkness and Dante exchange blows, slugging back and forth. Dante rakes Darkness's eyes, but the number one contender reaches out with his false hand and grabs Dante around the throat.
Cain: We've seen this before!
Suddenly, the ring is flooded with referees and road agents, who pull the grappling men apart. Five large men grab Darkness, pulling him across the ring as Dante stumbles down against the ropes, but Darkness hurls them away and dives on Dante again.
Tex: Darkness wants a piece of Dante! All hell is breaking lose - maybe literally!
Finally, the entire mob of officials manage to pull Darkness away and hold Dante back too. The two men snarl at each other from across the ring, each wanting to start the main event at Endgame right now.
Cain: These two men will face off for the Unified World's Heavyweight Championship at the biggest pay-per-view of the year in what promises to be the rematch to end all rematches, and now we've just found out that Acid Misfit will be the guest referee!
Tex: What's going to happen at Endgame and, more to the point, can these two men be prevented from destroying each other before the show even starts?!
Cain: Don't miss Endgame! It's going to be one for the ages!
<center><object width="425" height="350"><param name="movie" value="http://www.youtube.com/v/jL0S_cVQBqM"></param><param name="wmode" value="transparent"></param><embed src="http://www.youtube.com/v/jL0S_cVQBqM" type="application/x-shockwave-flash" wmode="transparent" width="425" height="350"></embed></object></center>