<center>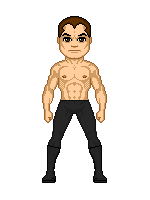 Light circle the arena as Rock this Town kicks on the speakers. Aaron enters during the opening music, almost dancing, waving to the fans. He starts walking down the ramp as the vocals begin.
Sammy Eubanks: The following contest is scheduled for one fall...introducing first, from Tucson, Arizona...weighing in at 210 lbs....AARON KEEEEEENIIING!!!
<center><i>Well my baby and me went out late Saturday night
I had my hair piled high and my baby just looks so right
Well, pick you up at ten got to have you home by two,
Mama don't know what I've got in store for you
Well that's alright 'cause we're looking as cool as can be </i></center>
Aaron slides into the ring.
<center><i>Well we found a little place that really didn't look half bad
I'll have a whiskey on the rocks and change of a dollar for the jukebox
Well, I put a quarter right into that can, but all it played was disco man
C'mon pretty baby, let's get outta here right away. </i></center>
He stands up on the ring posts, arms held high smile on his face and pointing to various fans in the arena.
<center><i>We're gonna rock this town, rock it inside out
We're gonna rock this town, make 'm scream and shout
Let's rock, rock, rock man rock, rock
We're gonna rock till we pop, We're gonna roll till we drop
We're gonna rock this town, rock it inside out </i></center>
He mounts the opposite turnbuckle and repeats the previous action before jumping down and getting set for the match.
"I Got High" by Afro Man plays and out walks Stoner and Yasmin, Yasmin on Stoner's shoulders (probably not to safe), Yasmin gets off Stoner and they have a quick make out session before they enter the ring.
Sammy: And... hailing from Long Beach, California... weighing in at 214 lbs and accompanied by Yasmin....STOOOONER!!!!!
The ring bell goes off and the match is on! Keening is in Stoner's face, shoving him around the mat. Stoner shoves back, and Keening stumbles backward. He leaps forward, nailing Stoner with a mean clothesline!
Cain: That's how ya do it!
Stoner is back up and heading towards Keening, but he's taking down by Aaron's drop toe hold! Keening attempts to turn it into a submission by locking Stoner's leg. Stoner kicks wildly and manages to free himself.
Tex: Good matwork by Keening and a good reaction by Stoner.
The two men are back on their feet, and Stoner advances again. He leaps into the air, hitting Keening with a spinning heel kick! Keening is down, and Stoner hits the ropes, leaping off them, flipping through the air, landing body-to-body on Keening.
Banter: I think they're both a little winded from that one!
Using the ropes, both men climb to their feet slowly. Once they've caught their breath, they head back at each other. Stoner grabs Keening for a sidewalk slam, but Keening fights his way out of it, and both men crash to the mat, Keening on top. Aaron grabs Stoner's leg, looking for another submission. He has better luck this time, locking it in!
Stoner tries to fight him off, pulling himself and Keening across the mat. Yasmin slaps her hands up and down on the apron, shouting encouragement to Stoner. The ref hurries over and breaks it up as soon as Stoner grabs the bottom rope.
Keening waits for Stoner to rise to his feet and lets the young man come at him again. Keening is waiting for him, and Stoner races over again, but Keening isn't expecting the flying body press from Stoner!
Tex: Stoner's always got a surprise up his sleeve!
While trying to regain his senses, Keening also tries to regain his leglock, and succeeds! The two men roll over, Stoner trying to fight his way out again, but Keening is locked on tighter this time! Stoner keeps pulling to the ropes, heading for Yasmin again, inching closer and closer, flinching from the pain. He shoots an arm out, almost there, and Keening pulls him back to the middle of the ring!
The ref is down, asking Stoner if he's going to submit. Stoner keeps struggling, unwilling to give up. He lets his hand drop once, pausing for a moment... then he bursts out, rolling over, kicking Keening in the chest, freeing himself!
A concerned Yasmin is on the ring apron, and Stoner heads to her, trying to get her out of danger's way. She screams and Keening knocks Stoner into the ropes, sending Yasmin down hard to the ground outside the ring!
Cain: Keening looks a little bothered by that! I don't think he expected to knock the young lady down!
Stoner turns around, furious, racing at Keening. He grabs Keening, throwing him into the turnbuckle. Fists fly at Aaron's face as Stoner takes out his anger. He looks through the ropes, looking for some sign from Yasmin to know she's alright.
Keening sees his opportunity and takes it, shoving Stoner forward hard, tossing him to the mat. Aaron grabs the leg again and slams Stoner's knee into the mat. He doesn't let go, and attempts to lock on again! Stoner struggles again, pushing away, but half his attention is still outside of the ring. Keening keeps looking for a lock.
Tex: There it is! The Staccato!!
The ref dives down and Stoner keeps fighting, his eyes locked outside the ring. Keening twists and Stoner howls, his hand tapping the mat.
Sammy Eubanks: Winner, by submission, AAAAAROOON KEEEEENING!!
<center>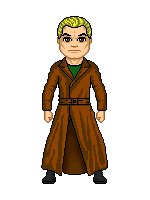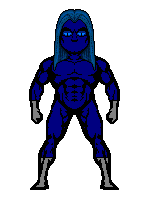 </center>
Sammy Eubanks: The following contest is scheduled for one fall...introducing first...
The entrance starts with an absolutely demonic sounding organ, as all lights in the arena are dimmed. Only one, dark, absolutely crimson spotlight remains on the stage. Inferno's form rises from beneath the stage, and then he lifts his arms in the air, causing four pillars of fire to rise around him, and the music breaks into it's main riff, as Inferno heads to the ring. No matter how much the crowd boos him, he always comes to the ring with his mind seemingly elsewhere, seemingly...disconnected from it all, as he apparently runs over every possible way he can cripple his opponent.
Sammy: Weighing in at 290 lbs... INFEEERNOOOOO!!!
"Heretic" by Soil and Eclipse starts to play and a figure stumbles out.
Sammy: And his opponent...weighing in at 180 lbs.... SUUUBWAAAAY JAAAACK!!!
As Subway Jack makes his way to the ring, staggering and stumbling, he somehow manages to trip over his own feet and crashes face-first into the entrance ramp. The crowd collectively recoil from the scene as it becomes apparent that Jack has thrown up and is now lying face down in his own vomit. He seems to be choking, perhaps setting the tone for this encounter.
Banter: Ewww...
Tex: Subway Jack does not look to be in any sort of condition to fight. This match ought to be stopped right now.
In the ring, Inferno shakes his head in disgust and confusion as he observes his miserable excuse for an opponent. Jack manages to get back to his feet and, laughing manically for some reason, begins to make his way to the ring again. Inferno's massive chest begins to shake with laughter as Jack clambers his way pitifully between the ropes.
Jack and the referee exchange some words, but the referee doesn't seem interested in what he has to say. He pats Jack down, searching for weapons and finding two objects that could serve that purpose - a suspicious looking needle and a dangerous looking gun. The third object could be considered a weapon only in the right hands, and the official discards the vibrator with distaste. The referee signals for the bell, and the sound waves seem to be enough to send Jack down to the mat.
Cain: Well, it looks like there is going to be a match, but I'm not sure Jack will be able to put up much of a fight.
Tex: Inferno makes his debut here, and he might be about to pick up an easy win.
Banter: I think Mason's had enough of this already...
With that, the referee seems to wash his hands of the whole affair and leaves the ring. Inferno stares after the departing man, but then shrugs and waits for Jack to get back up. When this doesn't happen, Inferno simply hauls Jack to his feet by his hair, and then floors him again with a right hand.
Tex: Well...we have no referee...but this match still seems to be going ahead...
Banter: This is going to be fun!
Inferno rains blows down on Jack, hammering him with unrelenting fury. Jack was already a bloody mess when he walked through the curtain, but this hasn't helped. Inferno whips him across the ring and hits a big boot, once again sending him skidding in a typically ungainly fashion to the mat.
Cain: Subway Jack can barely stand already!
Inferno grinds his boot into Jack's jaw, but the much smaller man seems to croak out a few words that give him pause. Inferno continues to lay in stomps however, albeit with less frequency than a moment ago. Inferno hauls Jack to his feet and then slaps him in an improvised submission hold, bending him backwards over his knee, testing the limits of his spine as only an expert can. The crowd is shocked by the intensity of the submission, but Jack is unable to quit, given the now-unsanctioned nature of the match.
Tex: What a brutal submission hold. Even if Jack wanted to quit he has no one to tell it to. Is he even going to walk out of this match?
Banter: He barely walked into it, so no, probably not.
Inferno finally releases Jack, and then hurls him through the ropes to land in a sodden heap outside the ring. The monster follows Jack out, and then drags him towards the guardrail. Jack's face is smashed into the railing, and Inferno lifts him into the air, clearly intending to throw him into the crowd. Someone in the crowd hands Inferno something however and, after teaching the fan a lesson in respect, Inferno does indeed turn the improvised weapon on Jack.
Tex: What is that?
Cain: It looks like a pan or a skillet...
Banter: Whatever it is, he just hit the guy who gave it him. Who brings a cooking utensil to a wrestling show anyway?
The annoyed fan attempts to get his own back, throwing a punch at Inferno, but the dark giant catches the right hand and twists the fist around, causing the large audience member to crumple to his knees with a scream. Turning away from <i>that</i> assault, Inferno returns to his first one. Jack is helped to his feet by more fans and attempts a comeback, swinging wildly at Inferno. His attack sails comically wide.
Tex: That was Jack's first attempt at offence this entire match, and its effect was, it has to be said, totally minimal.
Jack stumbles, still swinging, directed by helpful fans shouting advice at him, until his unsteady gait sends him tumbling into the crowd. A crowded mêlée ensues as Jack tries to scramble up, but then the tempo seems to change and Jack flees the scene, running up through the crowd, away from Inferno.
Banter: Where's he going?
Cain: Away from this mugging, by the looks of things.
The big man tries to follow, pushing aside hostile fans, and turns just in time to see - but not stop - Jack's meteoric descent from a raised area of seating ten feet above him.
Tex: Oh! Jack just flew out of nowhere!
Jack's fist is driven into Inferno's mask, sending the monster down onto the hard concrete floor immediately. The fans erupt for the incredibly unlikely comeback, but Inferno, grinning through his broken mask, is soon back up to his feet. Jack holds up a hand, but Inferno grabs him again, hurling him back over the guardrail. Jack flees once more, but seems to have another plan as he hops up onto the apron with surprising agility and grabs hold of Inferno, riding him all the way into the steel steps.
Cain: Inferno just smashed into those steps. Jack's only managed to land a couple of moves, but they were big ones. Could he pull this one out?
Banter: There's nothing to pull out! He's drunk or high or both and this isn't even a match!
Inferno is down, and Jack doesn't hesitate, grabbing the ring from the timekeeper and slamming it into Inferno's head as he tries to rise. The giant falls to the floor bleeding, apparently unconscious. Jack watches him carefully, wiping vomit and blood and hair from his eyes before, convinced this suicide is as complete as it will ever be, stumbles away from the scene of the crime.
Tex: Well...the bell rang, after a fashion, and Subway Jack appears to be the one left standing. A victory - of sorts - for this strange man.