<center>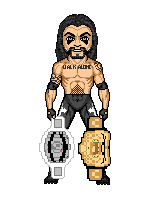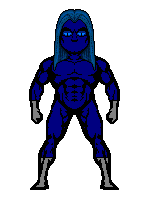 </center>
Tex: And now the final match tonight in the Majestic Cup tournament first round, and this is a big one.
Cain: It sure is. Last year, Darkness reached the final of the tournament, ultimately losing out to Matt Strikmore, but you can bet he's got victory on his mind this year.
Tex: Standing in his way though is one of the newest faces on the roster...
An absolutely demonic sounding organ begins to play, as all lights in the arena are dimmed. Only one, dark, absolutely crimson spotlight remains on the stage.
Sammy Eubanks The following Majestic Cup first round match is scheduled for one fall! Introducing first...weighing in at 290 lbs...INFEEEEEEEERNOOOOOOOOOOOOOOO!!!!!!
Inferno's form rises from beneath the stage, and then he lifts his arms in the air, causing four pillars of fire to rise around him, and the music breaks into it's main riff, as Inferno heads to the ring. No matter how much the crowd boos him, he remains in a trance with his mind seemingly elsewhere, seemingly...disconnected from it all.......
Tex: Boy, this guy gives me the creeps. He and Subway Jack had a match last week that degenerated pretty quickly and which Inferno came out worse from I guess, but if anyone can take the fight to the World Champ, I think this is the fella.
Banter: Well then this should be fun.
<object width="425" height="350"><param name="movie" value="http//www.youtube.com/v/x3Mwo2lGdXU"></param><param name="wmode" value="transparent"></param><embed src="http//www.youtube.com/v/x3Mwo2lGdXU" type="application/x-shockwave-flash" wmode="transparent" width="425" height="350"></embed></object>
Backstage, the door of Darkness's locker room is shown, and the fans erupt. As "Fear of the Dark" continues to play, the door opens and Darkness steps out, title belts held in his hands. He walks calmly through the arena as his music plays, the fans chanting along with it. As he steps up to the gorilla position he pauses, waiting for the right moment.
Sammy And his opponent...from Chicago, Illinois...weighing in at 218 lbs...he is the 411fed and ECF Unified World's Heavyweight Champion...
A huge pyro erupts from the stage and Darkness walks through the flames.
Sammy ...DAAAAAAAAAAAAAARKNEEEEEEEEEEEEEEEEEEEEEEEESS!!!!!
More pyro rips down the sides of the ramp, framing Darkness in fire.
Cain: The World Champion is here! What a reaction from the fans in attendance!
Banter: They're gonna be pretty disappointed when he loses.
Darkness slides into the ring and mounts the turnbuckle, lifting his belts above his head.
Tex: Well this match isn't for the World Titles, but if Inferno can pick up a win over the champion tonight that's going to do huge things for his career.
Darkness hops down and hands his belts to the timekeeper over the ropes. As he steps into the centre of the ring with his opponent, the bell rings.
Cain: This is going to be an interesting match, I think...
Darkness squares up to Inferno, having to crane his neck upwards to meet the huge man's masked gaze. The two stand off for a long moment before Darkness aims a kick at Inferno's midsection. Inferno is staggered and Darkness attempts to press his advantage, charging his opponent with a diving shoulder. Inferno stumbles backwards again, but doesn't fall. Incredulously, Darkness throws out a martial arts kick and Inferno bounces back into the ropes before hurtling back across the ring at full speed, smashing into Darkness with a huge clothesline that sends him spinning through the air.
Tex: Oh! Darkness just went head over heels!
Cain: Inferno is taking the fight to the World Champion...
The crowd boo Inferno as he roars at them and flexes his arms. Darkness gets to his feet, but Inferno kicks him in the face, sending him back to the mat. The masked giant stomps the World Champion down before yanking him by his hair. He delivers a brutal throat thrust that knocks Darkness of his feet once more before going for a pin...
One...
No, Darkness rolls his shoulder up off the canvas.
Tex: Not enough that time, but Inferno is taking control.
Inferno pounds on Darkness with right hands and then grabs his left arm, twisting it at the wrist and causing the Champion to wince in pain.
Cain: Inferno targets that false hand of Darkness, but he looks like he's preparing for something more.
Banter: Yeah, like beating Darkness to a pulp. I'm his biggest fan already.
Inferno steps over Darkness's shoulder and wraps his legs around his throat before falling to the mat, locking in a triangle choke. Darkness claws across the mat, reaching for the ropes, but Inferno's weight makes it difficult. Inferno pulls back on the hold, but Darkness makes a desperate lunge and makes the ropes, forcing the referee to break it up, but not before he reaches the count of four.
Tex: The fans don't seem to be taking to Inferno as much as you are, Banter. He's obviously got a vicious style and a take-no-prisoners attitude.
Banter: And that's what you need to be the best.
Cain: I don't think that describes Darkness though.
Banter: You have such a short memory, Isaiah...it was just a couple of months ago he was choking people and setting up Strikmore.
Inferno rolls to his feet as Darkness pulls himself up using the ropes. The masked rookie charges, aiming a knee at his opponent's skull. Darkness hits the mat again, and Inferno lifts him up, attempting to spin him over into a powerslam, but Darkness counters, catching him around the neck and pulling him down into a tornado DDT. Inferno is up quickly, but clearly staggered by the big move, and Darkness takes the opportunity to hit a big dropkick. He goes for a pin...
One...
But Inferno kicks out with authority, throwing Darkness across the ring.
Cain: An impressive counter there from Darkness. He's so resourceful, and that's why he's the World Champion.
Banter: Of course. Nothing at all to do with being best buddies with the guy he won it from who gave him a shot for no reason.
Inferno surges to his feet, racing towards the downed World Champion, but Darkness manages to bring him down with a drop-toehold which sends him face-first into the turnbuckle. Inferno is sent stumbling backwards, holding his mask as Darkness leaps up and bounds onto the top rope, flying off with a cross body. Inferno lands heavily and Darkness holds on for the pin...
One...
Two...
No! Kickout!
Tex: An impressive aerial move from Darkness, but it's not enough.
Cain: Inferno is impressing me so far, even if I'm not a fan of his attitude.
Darkness composes himself as he gets to his feet, massaging his neck. He drops a knee on Inferno and then goes after his leg, turning him over into a half crab. Inferno struggles in the hold, looking for purchase on the mat. He claws towards the ropes, finally reaching them and forcing Darkness to release.
Tex: Is Darkness focusing on Inferno's leg?
Cain: It's sound strategy if he is. He can offset his size disadvantage by taking Inferno off his vertical base.
Darkness bounces nimbly from foot-to-foot and, as Inferno stands, he charges, only to be lifted up and over the rope. Fortunately for him, his agility once again saves him as he lands on the apron. He throws a right hand at Inferno, but it seems to have no effect as the rookie reaches out and grabs Darkness by the throat. With a roar, he lifts Darkness up over the ropes and slams him to the mat with a thunderous chokeslam.
Banter: Whoa!
Tex: Inferno takes a leaf from Darkness's own playbook by the looks of things!
Inferno goes for a cover...
One...
Two...
Th...no! Darkness just manages to kick out!
Cain: The World Champion holds on, but for how long?
Inferno is moving slowly now, stalking his foe. He moves around the ring as Darkness slowly picks himself up. Moving with deceptive speed, he attacks from behind, hooking Darkness in a waist lock and hurling him through the air with a release German suplex to land high on his back and neck.
Banter: C'mon, finish him!
Tex: Darkness may be in trouble here...
Darkness is curled up on the mat as Inferno lifts him up and locks his huge arms around his neck. He clutches tightly, cinching in a sleeper hold, and Darkness tries to claw his way free. He kicks out with his legs, trying to reach the ropes, and manages to unbalance the two of them. They crash into the mat, but Inferno keeps the sleeper locked in. He tries to climb back up to exert full pressure again, but Darkness manages to bury an elbow in his gut. He keeps elbowing his aggressor until, finally he batters his way free.
Cain: Darkness fights his way out of the sleeper hold, but it may be only a brief respite for him.
Inferno backs up, preparing for another charge, but this time Darkness is ready for him, and jumps up, slamming a knee into his skull.
Tex: Shadowed Wizard! Out of nowhere!
Banter: Aww crap..
Inferno is down, and Darkness wastes no time hooking his leg...
One...
Two...
Thr...no! Not enough!
Cain: Inferno still has some fight left in him apparently. He's showing incredible tenacity for someone with so little experience.
Darkness gets up and ducks low, preparing himself for Inferno again. His opponent staggers to his feet, and Darkness strikes, reaching out with his prosthetic hand and grabbing Inferno around the throat.
Tex: Darkness is looking for the Slayer Slam!
The Champion tries to lift the big man, but Inferno kicks him in the gut and then hooks Darkness's arms. He lifts him high into the air, but Darkness manages to fight his way free and slide down Inferno's back. As the masked warrior turns around, Darkness slams his boot into his stomach, grabs him by the head and spins him around, driving him head-first into the canvas.
Tex: DARKNESS DDT! DARKNESS DDT!
He pins...
One...
Two...
Thre...No!
Cain: Oh my God! Inferno just kicked out of the Darkness DDT!
Banter: Hey, we might have a happy ending after all...
Tex: What can Darkness do to stop this man?
Darkness is stunned. He stares down at Inferno before quickly composing himself, picking him up and spinning him around with another huge Darkness DDT. He pins once again..
One...
Suddenly, "Iron Fist" by Motörhead starts to play. The referee stops counting and, a few seconds later, Darkness gets to his feet to frown at the stage.
Cain: What's going on?
Tex: It looks like our Commissioner has something else to say tonight...
Darkness walks towards the ropes as, on the stage, Valerie Stern appears holding a microphone.
<center>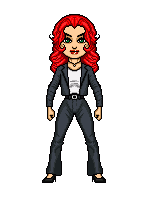 </center>
"Sorry to interrupt, Darkness. I'm sure it would have been another glorious victory." She rolls her eyes as the fans chant "BULL-SHIT!" at her.
Darkness shakes his head in the ring and gestures for a microphone, but Stern holds up a hand.
"Don't bother. You don't need to reply." She walks back and forth across the stage. "I hope you were paying attention earlier tonight when I ended Freya's match prematurely, and I hope she's listening now too, because I'm here to explain myself."
She pauses, watching Darkness's reaction carefully and ignoring the loud negative reaction from the crowd.
"You see, as I said to you at Friction last week, you've sadly become a liability for this company. Our industry already has enough problems right now as I'm sure you all know, and I can do without you adding to that, Darkness. I can't legally strip you of your belt, but I can prevent you from advancing in this tournament and earning us even more bad publicity."
Darkness has a microphone by this time, but on attempting to talk into it, he realises it has been turned off.
"Sorry," Stern smiles, "The whole point I'm making would be rather undermined if I let you speak, wouldn't it? No, I'm afraid that you won't be advancing in this tournament, and neither will Freya. I heard about her little brawl in the reception of her hotel earlier this week. Your respective opponents will receive a bye into the next round in your places."
Stern turns around as the crowd continue to boo her loudly, but then turns around as if remembering something. "Oh, and I know you two are going to be concerned with what you'll be doing at the PPV. Well, don't worry about that - I have a very special surprise for the two of you!"
Tex: What does this mean?!
Cain: It looks like Inferno will advance in the Majestic Cup tournament instead of Darkness, but what does Stern have planned for Darkness and Freya?
Tex: I guess we'll find out at the PPV!
In the ring, Inferno is slumped in the corner, watching Darkness carefully as he kicks the bottom rope in frustration before swinging himself out of the ring, grabbing his belts and walking up the ramp. Inferno takes his exit out of the ring and through the crowd, clearing a path of frightened fans.
Stern smiles to herself as Darkness heads up the ramp. He pauses, turning back to the ring, then snaps his head back around as the TwistedTron lights up.
<center><object width="425" height="350"><param name="movie" value="http://www.youtube.com/v/xS0bJ1_7x00"></param><param name="wmode" value="transparent"></param><embed src="http://www.youtube.com/v/xS0bJ1_7x00" type="application/x-shockwave-flash" wmode="transparent" width="425" height="350"></embed></object>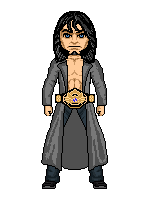 </center>
There's a mixed reaction from the crowd as the FWR World Champion hits the stage. Malaki and Darkness both pause, coming face-to-face with each other.
Tex: What the hell is this??
Cain: I don't know, Tex, but this is the first time since the creation of TCW that another fed's world champion has appeared on TCW television!
Malaki and Darkness move closer to one another, and the crowd tenses, hoping for a confontation. The TwistedTron displaying the scene as the two World Champions edge closer and closer... Malaki rolls his eyes at Darkness and heads down the ramp.
Inside the ring, Stern and Malaki shake hands, while Darkness and the fans watch the scene.
"Now, what we have here is a REAL World Champion... Someone who puts up with the pressures of being a star, rather than someone who just creates more and more bullshit the more attention he gets!"
"So what is FWR's World Champion doing here? He's teaching you, Darkness, a big lesson! While you're out of the Majestic Cup tournament, Malaki is IN IT!"
The crowd erupts at the explanation, half excited by the surprising events, and half pissed off that their champion has been showed up tonight by another fed's champ.
Malaki and Stern smile in the ring and on the TwistedTron as Darkness shouts down the ramp at them, and we fade to black.