<center>
The Majestic Cup Semi-Finals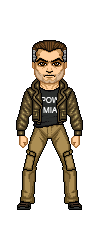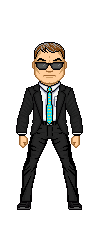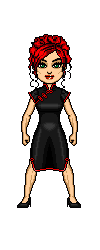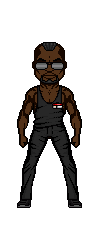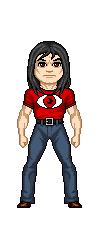 </center>
As we return, Stern and her allies are still standing atop the ramp.
Stern: Gentlemen, ladies and gentlemen in the audience; as we prepare for the final stages in the Majestic cup tournament there are a few guidelines and rules I want to make clear and add.
Banter: Add?! What makes Stern think she can change the situation in the mifddle of the damned match?!
Cain: Her commissionership?
Banter: Well, yeah that works doesn't it?
Stern: Each of the semifinal matches have a time limit of 15 minutes and are to be conducted under elimination rules, last man standing advances. Should any match go to the before mentioned 15 minute time limit, a TCW official. Will make a decision based on advantages and other criteria.
Banter: Wonderful who in the TCW has the grey matter to call a match by the damn TV?
Stern: For tonight's matches...I will be the official responsible for the decisions if needed.
Tex: Seems our esteemed commissioner slaps you on the wrist every time you open your yap, eh Banter?
Stern: With those words I want to move on to the true main events of the night, gentlemen, good luck and may the best man win!
<center>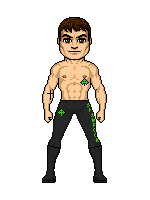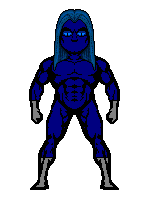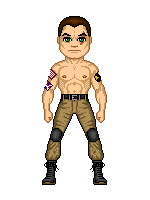 </center>
Other than the cheers for Hardy, it's a quiet crowd tonight in Mexico. You can hear a pin drop. There are no signs. No laser pointers. Whispers barely picked up the mic of the commenting team. "Think we might need to rewrite the illegal alien jokes?" Tex had only time to ask: "WHAT - ?!" Because the crowd began to riot. Even Banter was caught off guard, as bodies poured over the railing. Then he saw, money, falling from the ceiling like confetti. The soundtrack hit all the wrong notes.
"I want a all chromed out wit the clutch, nigga
Drinkin malt liquor, drivin a Bro' Vega
I'm wit Mo' sippers, watched by gold diggers."
Shamrock entered the arena with a woman on each arm, like a conquering prince. The boos were his real anthem. In any crowd, there were enough people willing to throw away everything for the money he offered. Watching the security crack down was worth the few hundred dollars the stunt had cost him.
Tex: "Come on now, is this REALLY nessesary? It's obvious that-"
Before he can finish his sentence, Banter throws down his headset and goes to get some money.
Tex: "..."
Before long, Banter returns with a handful of ones.
Banter: That Shamrock sure is doing a good thing for these impoverished Mexicans.
Shamrock smiles at the scene. It gave him a warm fuzzy, watching people riot over one dollar bills. As the thunderstorm of cash subsided, Shamrock walked into the ring like a hero, parting the crowd as they cleared the ring with their loot, and the cuts and bruises that came with it. Moments later, Atomic Welfare's music played...
Sitting in the nosebleed seats, Marina Delgado and her son Estelio watched as the man she had vowed to love honor, cherish, and not strangle while the child was a witness, fought with a crowd of friends for a few bucks. Not for the money, but because they were at a wrestling event, and he had magically reverted to being 6 years old. "Estelio, see that bug - that little man waaaay down there, is your father. Please, whatever you do, remember in the future that he did this, and don't do the same." Estelio laughed, because his tiny feet were ticklish. In no time she had a submission victory as he hiccuped through tears. But it was the next wrestler who really drew her attention. He was big. Too big to be real. But there was no sign of arrogance about it. He seemed troubled. A thousand miles away.
"Hey!" She shouted, "Good luck!" Her English wasn't the best, but he looked up, when everyone else did, and she thought she almost saw a smile. Now the ring announcer was speaking again. He said that Hell was coming.
And a new song hit the speakers.
The familiar organ riffs picked up, and immeadiately the entire crowd burst into boos. But they were passionate, strong boos, because deep down they loved him. Loved to hate him, that is. And one fan sitting at home just plain hated him, because thanks to this man, he couldn't watch the show now.
The dark shape rose through the stage. Paused for a moment, head facing down. Then he swung his arms once, high, and the flames erupted around him, and a new, unfamiliar song hit the speakers. Something like a nightmare. Something from Hell.
"When you peel back my eyes

I see the pain and I feel alive"
As the big, masked man calmly walked down to the ring, the passionate boos only grew louder. He ignored everything, even that sign written in bad English: "Let us piss on El Inferno!"
"My hatred heaps upon this fire

That burns inside and you blow higher"
The crowd ate it up. The music from Hell had a sweet rhythm.
Tex:"I can't believe the crowd is encouraging him!"
Banter:"Why not, they came here to be entertained, not learn life lessons."
Tex:"Because he's a monster!"
Banter:"On our payroll. Who's the real monster? Frankenstein was the name of his creator, remember?"
Tex has no answer.
Banter:"You're cute when you remember you have a conscience."
Inside the ring, the referee was tasked with making sure nobody cheated. He checked Inferno - and didn't see Shamrock behind him, putting his plan into motion.
Tiny metal objects. Shamrock could be seen slipping them into his wrist bands.
Tex: "Hey....isn't that...?"
Banter interrupted: "Quiet. The match is about to start."
After the ref checked Atomic Welfare, he called for the bell, and the match went underway. Immeadiately Shamrock lunged for Welfare, taking a swing at him.
Tex:"He only checked..."
Banter:"Cover your eyes, little butterfly."
Atomic Welfare's forehead was torn open like tissue paper where the cold razor blade kissed him. The blood fell, and he felt no pain, it was like sweat - until it was in his eyes. Next razor blade made it a cross, and the third turned the cross into an upside down star. Something inside the man awoke. Something that reached for Shamrock's wrist, held it tight. Test of strength, and Shamrock's arm was bent back...
Tex:"He was cut by his own razor blade!"
Banter:"I can't believe it! Who'd have ever thought a wrestler would be made to cut themselves?! This is barbaric - I'm going to grab a drink from the concession stands. You want corn doggies, Hoss?"
Inferno seemed rather disappointed that his friends had ignored him. Grabbing Atomic Welfare from behind, he wrapped his arms around his waist, and threw himself back as hard as he could. Welfare flipped in midair as he was released, landing hard on his stomach. Inferno followed up the suplex with a relentless attack of punches on Shamrock, who promptly struck his razor blade into the side of Inferno's head, causing the monster to reel. But Inferno avenged himself sevenfold, grabbing Shamrock by the shoulders and beating his head into Shamrock's once, twice, three, four, five, six....seven times, and when it was over, his forehead was covered in Shamrock's blood. It almost looked like the mask itself was bleeding, like a stuck animal...and then a pissed Welfare struck from behind.
In the small of Inferno's back. The big man fell to one knee, was lifted up. Atomic Welfare had the entire audience in awe, as he held the giant overhead... Shamrock's eye peered through his fingers' white knuckled grip, the bleeding hidden from the camera's view. Blood fell to the mat with a steady drip, drip, drip... the war had just begun, and all three men wore bloody masks. Inferno's fist smashed into the back of Atomic Welfare, the man saw stars flash, for just an instant before he blocked out the pain, and the stars became the camera flashes they really were, as the crowd erupted. And then he fell. Shamrock had struck low, then bailed out of the ring, to think, while the two dealt with each other. It wasn't fear. It was the realization, the helpless frustration, of being the weakest of the three. If he wasn't faster, smarter, if he took this game too light, he'd be the one going down. He didn't know how much damage they'd do to him. He needed to think. Shit. So much noise. He just wanted to shout for the crowd to shut up, like a heel in a staged Saturday morning fight. He just wanted to call it a night, let the two of them tear each other apart. He could always challenge the winner of the tournament. Make them come to him. So what was keeping him from doing just that?
He figured he'd pull the old heel trick and hide under the ring. There were no count-outs in a triple threat after all. He'd let them fight it out for a little, and then come out to pick up the pieces. In the mean time, Inferno took advantage of the fallen Welfare. He would not let this mistake go unpunished. He clasped a claw hold over his face, pressing a knee into his chest, trying to keep him down, trying to suffocate him....
Tex: "Isn't that the 'Shroud of Turin'?"
Banter: "Heh. No way he'll be getting out of this."
"Marina's husband finally found his way back to her. He held a fist full of bloody ones, and smiled. "How's the match?" She accepted his kiss. They could talk about this when the kid was asleep. "Pretty bad. It seems to be a squash match - " She stopped. The match wasn't over. Atomic Welfare had done the impossible.
Tex:"He's powered out of the Shroud!"
Banter:"Sweet Jesus, he's got more lives than Jesus!"
Tex:"What are you talking about? This match is just getting started!"
Banter:"Lie down, moron! It's not worth dying to get into the finals!"
But Atomic Welfare was beyond words now. He couldn't hear the crowd. Couldn't feel the pain. Couldn't see the lights. There was only the black. The rage that built up inside, and held the shroud inches away. Too soon, to lie down. There was work to do.
The burst of rage and adrenaline was enough to catch Inferno off guard. He pushed himself to a standing poisition in the face of the cat-like eyes on the monster's mask. Then, in one simple motion, he captured Inferno in his grip, and flung him overhead, and the crowd roared. They could almost see his adrenaline flowing. Not about to stop, he forced the big man onto his stomach and pressed his hands under his chin, pulling back in a Camel Clutch.
Inferno now showed strength of his own, pushing up to his knees, about to break the hold. The former soldier knew better than to waste strength he'd need for later. He kneed the man in the back, let Inferno rise again, stronger than ever - and used Inferno's momentem to carry him up high and out, and over the ropes. But Inferno caught hold. Cold cat eyes stared through the fire in the eyes of his opponent, and deep into the hidden places. Then, a curious moment. Inferno offered him a salute. One warrior to another. That was when Shamrock, took his moment to strike. Chair shot. Once. Twice. Three times. How many times did it take? Inferno fell. Recieved another chair shot to the head. The referee was there, to grab it, to tell Shamrock money could only buy so much. But then Inferno's fingers wrapped tight around Shamrock's throat said the same thing, faster, and with just as much style.
And then Inferno rose, and Shamrock along with him. He took a ride, several feet in the air, and you could see on Shamrock's eyes the look of terror, the fear of the lack of control, and then his eyes shut, waiting for the impact. BAM.
Tex: "What a chokeslam by Inferno...he must have been ten feet in the air!"
He went for a cover. One..........
Two........
T-NO!
Welfare was there to break up the pinfall attempt. His hands pressed into Inferno's neck, as he appeared to be trying to get him into a Full Nelson and follow up with a slam, but Inferno elbowed out at just the right time. Then, in a total surprise, whirled around and stretched his leg insanely high, bringing the heel down onto Welfare's head with an audible crack. The crowd gasped, and then marked out for the next move. Inferno's gloved fingers found themslves around Welfare's neck. Cat eyes stared into Welfare's soul, and they told him he was doomed. Into the air he went.
Tex: "My God, that monster's lifting the nearly 300 pound Welfare like he was a feather!"
BAM. The ring had enough. It gave way.
Welfare was still conscious. Breathing broken, tasted blood, but the soldier had survived. He laughed. Maybe it was shock. Inferno grinned, laughed back. The crowd got into it, laughed, cheered, threw drinks just because. Shamrock wasn't laughing. Just regained consciousness, and every thing seemed to have gone insane. He could feel the world spinning beyond his control.
There was the sound of the metal mesh underneath the ring being torn apart, the referee, the invisible man in the ring, just let it happen. Watched as Inferno hit Atomic Welfare with everything he had, because he had looked deep inside the man, and he knew - Atomic Welfare was holding back. He was afraid to be a monster.
A monster like Inferno.
That was the unforgiveable sin.
Nobody was to ever again show him mercy...
When the violence was finished, there was a long silence. Marked only by
one
two.
three.
And then the crowd cheered. After all, it was all fake, so why not let the bad guys have one?
Shamrock heard Inferno's voice. "Maybe you've been so worried about what was behind your back after our first dance, that you didn't see me coming."
Before he could make sense of the world, he was standing again, assisted unwillingly by Inferno, but it was only so he could fall again. His arms were hooked, and then his world was turned upside down. Then, there was no world at all, once the back of his head struck the mat. Tex: "It's The Divine Comedy!" Shamrock was plunged through all nine circles of hell and burst out the other end. The shadow covered him. One more.
One........
Two...........
Three.
Tex:"What the Hell?"
Banter:"Monster mash. Corn doggy?"
Tex:"You know I can't stand corndogs."
Banter:"But every time you struggle, you come a little closer..."
Tex:"I thought Atomic Welfare could have won this match."
Banter:"Yeah, but he wanted to sleep nights. Give him a few more concussions, and he'll sell out. They all do."
Tex:"Not everyone..."
As the two personalities put their characters through the familiar paces, nobody noticed the family of three excuse themselves single file, one and two, and she held number three, trying to quiet his crying.
One fan to another: "Why did they bring a kid here?"
<center>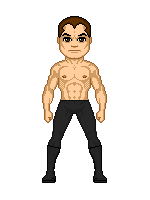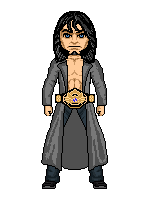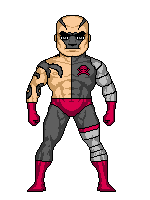 </center>
Tex: Ok folks we're just seconds away from out second Majestic cup Semifinals of the night, We will see the last man be qualified for the finals and one of the following will be making his way towards a shot at the TC title and a chance to pick ANY match he likes over the course of the next year!
Light circle the arena as Rock this Town kicks on the speakers. Aaron enters during the opening music , almost dancing, waving to the fans. He starts walking down the ramp as the vocals begin.
Well my baby and me went out late Saturday night
I had my hair piled high and my baby just looks so right
Well, pick you up at ten got to have you home by two,
Mama don't know what I've got in store for you
Well that's alright 'cause we're looking as cool as can be
Aaron slides into the ring.
Well we found a little place that really didn't look half bad
I'll have a whiskey on the rocks and change of a dollar for the jukebox
Well, I put a quarter right into that can, but all it played was disco man
C'mon pretty baby, let's get outta here right away.
He stands up on the ring posts, arms held high smile on his face and pointing to various fans in the arena.
We're gonna rock this town, rock it inside out
We're gonna rock this town, make 'm scream and shout
Let's rock, rock, rock man rock, rock
We're gonna rock till we pop, We're gonna roll till we drop
We're gonna rock this town, rock it inside out
He mounts the opposite turnbuckle and repeats the previous action before jumping down and getting set for the match.
"Hey Mister backstabbin' son of a bitch
you're livin' in a world that'll soon be dyin'
and I know everybody knows you try to be like me
but even at your best as a man you couldn't equal half of me.

I am realizing that everybody's lost their simple ways
and now that it's here I see it all so clearly
I've come face to face with the enemy, the enemy.

You, your another shit talkin' punk to me.
You're a living inspiration for what i never wanna be,
and I see you've been blinded by what you believe
And now back up and sit down, shut up and act like you need to be."
A lone spotlight shines on the entrance way and Malaki appears, to mostly boos from the audience. Some people do seem to want to cheer him, but Malaki pays them no mind, striding to the ring. He slides under the bottom rope and then climbs a turnbuckle, posing with his FWR World Championship over his head.
The guitar solo from "Land of Confusion" begins. There are spotlights moving around everywhere as the music plays.
On the TwistedTron, we see:
NUTHIN'
(Short vid of Bam hitting the Deathshead on opponent)
BUT
(Short video of Bam hitting the Kamikaze on opponent)
LOVE
(Short video of Bam hitting Love Sweet Love into a powerbomb on opponent)
After last vid, Bam comes onto ramp screaming "BAAAAAAAAAAABY!!!!", pounding his chest with both fists. All spotlights are on him, then shut off as the lights in the arena come up. Red pyro shoots off behind him as he walks down the ramp.
As he marches to the ring he is talking massive crap outloud as if screaming to his opponent, or shouting what he's about to do to his opponent.
He climbs the stairs to the ring and hops both legs over the top rope to enter the ring.
He then jumps up on the nearest turnbuckle and begins pounding his chest again, yelling out toward the fans, pumping himself up.
Cain: We have three men eager to tear each other apart in that very ring...looks like we...
As the ref calls for the bell the three men begin to circle each other, no one wants to end up as the sacrificial goat in this ceremony so a few minutes pass with paranoia as king of the ring.
Banter: I thought the time limit would be a way to encourage action...
Cain: So did I.
As if they heard the talk in the commentator's booth Malaki and Bamalicious look at each other and nod.
Tex: Good gawd they are assaulting Keening!
The two men take turns trying to get hold of Aaron Keening, but using his greater agility he dodges the two of them and as Malaki charges him, he hits a clothesline on Malaki and the charges Bam.
As Bam sees the approaching keening he bends down to flip the oncoming threat into the air, but he lowers his head a split second too late and instead of launching keening into the air he gets a face full of said Keening's boot. Keening follows his boot to the face up with an elbow drop and a cover.
1...
2...
Kick out!
Cain: With authority!
Banter: What?
Cain: With authority?
Banter: Yeah, that's what I was afraid I heard...
Tex: Oh looks like the returning Big Bamalicious is upset...
Banter: he got kicked in the face, did you expect him top but hugging Keening or something?
Slowly both Malaki and Bam make their way back to their feet, the two opponents eye each other and then look at Keening. Seconds later Keening is the victim of what is known on the street as a mugging, Bam and Malaki takes turns bashing his skull with their fists. As the now softened up Keening is dizzy and woozy enough, Bam whips the poor sap into the roeps and Malaki delivers his infamous Omega Drop.
Banter: team work in a triple threat match?
Cain(shrugs): They probably saw him as a threat.
Banter: No sh(BLEEP)?!
As the drop knocks the wind (and possibly the spine) out of Keening, Malaki dives on him for the cover.
1...
2...
3!
Sammy Eubanks: Ladies and Gentlemen! Aaron Keening has been eliminated!
As Malaki gets up from his successful pin attempt he is met with a a wide grin from bam...oh and a boot to the face.
Cain: not the worlds most long lasting partnership...
Bam grabs the FWRfed superstar and delivers a powerful suplex that looks as if it did nasty things to Malaki's ability to err...breathe. Bam grabs the disoriented Malaki off of the canvas and whips him towards the ropes, after that he charges after him and dives at him Cactus Jack style knocking both himself and his opponent out of the ring.
To Malaki landing hard on the floor seems to have revived him as he kicks his bad arse mojo into gear and launches a vicious assault on Bam. Before the big man makes it to his feet he is the recipient of kicks, knees and a series of blows to the noggin that would cripple an ordinary man.
But to Bam who is far from an ordinary man this is just warm up. As he gets up he grab his opponent by the hair and delivers a earthshaking headbutt. As he prepares to finish Malaki off the two men hear the ref counting.
6!
7!
And they both head back into the ring for some more mayhem. The two continue to throw caution to the wind and whip each other pillar to post, the match ahs the fans rocking and reeling until they hear Sammy Eubanks.
Eubanks: Ladies and Gentlemen there is one minute remaining in the match...one minute!
Tex. Man, that looks like two panicked wrestlers!
As blood thirst turns to panic the two men try to fight but it ends up looking like a badly choreographed cat fight. Punches miss and moves are blocked as the minute winds down to zero...as Eubanks starts counting down from twenty Bam gains an upper hand, he punches his opponent and tries to put him across his shoulders for one of his finishers. Malaki does everything in his power to block this and up until the count reaches ten he succeeds. As the word "Ten" leaves Eubanks mouth Bam gets Malaki up on his shoulders, the big man grins and shouts his classic:
Bam: I got nothin' but LOVE for ya, baby!
Wasting a few vital seconds. He makes his move and as Eubanks counts "Five!" he drops Malaki on his head with a DvD. In a frantic panic Bam goes for the cover which is followed by.
1...
BZZZZZZZZZZZZZZZZZZZ!
Tex: What?!
Cain: Huh?!
Banter: Damn, broke a nail!
Eubanks: Ladies and Gentlemen, the 15 minute time limit has expired and as a result the match and it's winner will be judged by commissioner Valerie Stern!
The TwistedTron lights up with the image of the Commish.
<center>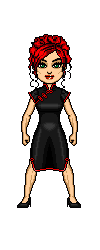 </center>
Stern: I have reviewed this match and have reached a decision. As both men had part in the elimination of Aaron Keening and as each man had a roughly equal time "dominating" the match, I see no other solution then to make the finals a TRIPLE THREAT MATCH!
The crowd cheers like mad as the two men in the ring (...well Bam as Malaki is in the last stages of descrambling his brain after the DvD) slowly realise what this means.
Before she leaves Stern smiles and...
Stern: Gentlemen, consider yourself both winners.
Iron Fist plays as she leaves the arena and the two qualified wrestlers behind.
Tex: Gawd the finals, a triple threat match, by gawd business is a bout to pick up!
Banter: Unlike me who is about to throw up if you use another JR cliché!
Bam leaves the ring leaving the still woozy Malaki to grab hold of his world and make its top spinning.