<center>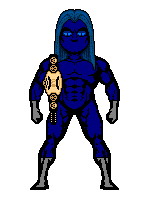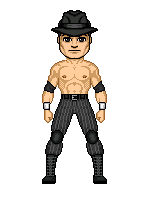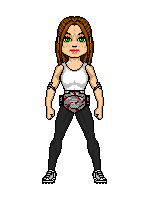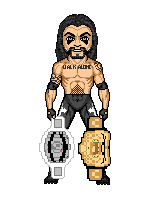 </center>
<center><object width="425" height="355"><param name="movie" value="http://www.youtube.com/v/hYWtP9hVE68"></param><param name="wmode" value="transparent"></param><embed src="http://www.youtube.com/v/hYWtP9hVE68" type="application/x-shockwave-flash" wmode="transparent" width="425" height="355"></embed></object></center>
The beginning of 'Raining Blood' plays along with an entrance video filled with mysterious images as the arena goes completely dark. It is not until the music begins to pick up that Inferno finally emerges in the entryway, and raises his arms triumphantly as pillars of flame surround him, and flank him as walks down the ramp. Images of his path of destruction play on the Twistedtron all the while.
Sammy Eubanks: The following tag team contest is scheduled for one fall...introducing first, weighing in at 290 lbs...he is the TCW TRANSCONTINENTAL CHAMPION...IIIIINFEEEEEEEERNOOOOOOOOOOOOOOO!!!!!!
Tex: Inferno is coming off a defeat at the hands of Freya, and the news that he will defend his title against Matt Strikmore at Stranglehold. I wonder what's going through this monster's mind?
Banter: Not much, I bet!
Cain: Inferno doesn't seem like the kind of person...if that's even the right word...to be bothered by anything at all. I think all he cares about is hurting people.
Banter: Yeah, that and Japanese girls...
Cain: Huh?
Banter: Oh, just a rumour I heard. Turns out Inferno has interesting taste in women.
He enters the ring, in a pure, concentrated trance, seemingly taking in the reaction of the crowd, some speaking with boos, some speaking with a dead, fearful silence. From there, he waits silently for the bell to ring...
Lights go out at the single guitar of the opening in heard. Soft green light floods the arena as the music picks up, only for the tempe to go down again. Kermit enters slowly and stands ala HHH at the top of the ramp.
Sammy: And his partner...from Chicago, Illinois...weighing in at 231 lbs...KEEEERMIIIIIIIIIIIIIIIT!!!!
I thought I knew what provocation was
I thought I knew what provocation was
I've eaten from the insane root that imprisons reason
When the music kicks up, Kermit throws his arms up as pryo goes off. He heads to the ring with a quick step and determined look.
Tex: Kermit makes his return to the ring tonight after his injury at the hands of Freya last year. No doubt he has revenge on his mind.
Cain: Among other things - Darkness laid down the challenge to Kermit, and we have heard that the match has been signed for Stranglehold: it will be Darkness and Kermit, one-on-one, for the World's Heavyweight Championship.
It's in my stomach like fire, like cancer
Like a knife I've been gunshot
It's in my stomach like fire, like cancer
Like a knife I've been gunshot
I gotta let it go
Gotta let it go
Gotta let it go
Yeaaaaaaaaaah!
It's in my stomach like fire, like cancer
Like a knife I've been gunshot!
Kermit enters the ring.
Goddamn, nowhere place to be
Dying deep inside of me
Always standing on the inside looking out
Can't break a heart so strong with pride
It's more than just being alive
I broke the rule with you, I'm out
Music fades....
Faint white figures paint my sleep
Please don't tell my secrets keep them hidden (you got it, you got it, you got it)
If the words that matter reach your face from floor
Will you be wondering if, or (do I need what is given or honest)
Does it cost me scarring if the words stay true
Even number your nephew (I don't want it, don't want it, don't want it anymore)
An explosion sounds above the entrance ramp, sending golden pyro raining down.
Sammy: And their opponents...first, from Oxford, England...weighing in at 143 lbs...she is the TCW BLEEDER CHAMPION...FREEEEEEEEEYAAAAAAAAAAA!!!!
And when the answer that you want
Is in the question that you state
Come what may!
Come what may!

And when the answer that you want
Is in the question that you state
Come what may!
Come what may!
Tex: Freya looks unperturbed to be in the same ring as the man she put out of action for months, and from whom she won her belt...
Banter: Well why would she be? She beat him in their last match.
Tex: That she did.
Freya walks down the ramp, signalling to her fans with points and grins.
In a pain that buckles out your knees
Could you stop this if I plead (you got it, you got it, you got it)
So destined I am to walk among the dark
A child in keeping secrets from (will they know what I've done in the after)
In the sought for matter when the words blame you
In a blood red summer I'll give you (I don't want it, don't want it, don't want it)
Freya hops up into the ring and climbs the turnbuckle and raises an arm, smiling at her many fans.
<center><object width="425" height="355"><param name="movie" value="http://www.youtube.com/v/x3Mwo2lGdXU"></param><param name="wmode" value="transparent"></param><embed src="http://www.youtube.com/v/x3Mwo2lGdXU" type="application/x-shockwave-flash" wmode="transparent" width="425" height="355"></embed></object></center>
As "Fear of the Dark" plays, the view cuts to a shot of Darkness's locker room door. It opens, and Darkness steps from the shadows, his two title belts held in his hands. As his fans chant along to the music, Darkness walks through the corridors of the arena before reaching the gorilla position.
Cain: The World Champion is here!
Banter: Still?
The song kicks in and a huge pyro erupts from the stage. Darkness strides through the flames, silhouetted in the orange glow.
Sammy: And her partner...from Chicago, Illinois...weighing in at 218 lbs...he is the 411FED AND ECF UNIFIED WORLD'S HEAVYWEIGHT CHAMPION....DAAAAAAAAAAAAARKNEEEEEEEEEEEEESS!!!!!!!!!!!!!!!!
As he strides to the ring, belts in hand, flames streak down the side of the ramp, framing him in fire. He enters the ring, ignoring its occupants and mounts the turnbuckle, raising his World Championships above his head as the ethereal chanting continues.
Tex: There's an awful lot of gold in the ring right now...
Cain: Yeah, Kermit looks a little naked without a title belt.
Banter: Must you always talk about naked men?
Tex: Pride is the only thing on the line tonight, unless Freya starts bleeding. We saw at the Majestic Cup just how that can affect even the most important matches.
All the titles are collected by the referee and handed to the timekeeper as the teams separate and decide who will begin the match. The bell sounds.
Darkness and Inferno start things off, both men circling slowly. Inferno makes a lunge for the World Champion, but Darkness sidesteps and continues to circle. Inferno makes another grab, and this time Darkness darts in inside his reach and staggers him with a quick series of martial arts strikes. Inferno steps back towards the ropes and Darkness presses forward with a forearm and then whips him across the ring. He goes for a roundhouse, but Inferno is quicker than he looks and manages to duck, before sending Darkness down to one knee with a crushing elbow strike to the shoulder.
Cain: I think Inferno had Darkness's number there.
Tex: Inferno has met the World Champion in several matches in his short career so far, and has proven himself the equal of the Champion in the past.
Inferno chokes Darkness against the ropes, but the referee breaks it up and Inferno tags in Kermit. The former Bleeder Champion vaults over the ropes and immediately beelines for Darkness, setting on him with right hands, but Darkness manages to hit a jawbreaker and floors him. He looks for the Darkshooter early on, but Kermit writhes free and darts up to his feet, hitting a dropkick that sends Darkness back against the ropes. He tries an Irish whip, but Darkness reverses it and then hits a drop toehold as Kermit comes back towards him.
Banter: I hope you realise that Kermit's just toying with Darkness. We're going to get one hell of a preview of their match at Stranglehold here!
Tex: I think you're right about that.
Freya is looking for the tag and Darkness obliges. She goes up high straight away and flies into Kermit with a crossbody as he stands up. She holds on for the pin...
One...
Kickout!
Kermit is still on the mat and brings Freya down with a trip before trying for a seated hammerlock. He nearly gets it, but Freya reverses out and places a knee in his gut, flipping him over and onto his back. She kips up and then somersaults over, attempting to drop a leg across his throat, but Kermit rolls out of the way.
Cain: These two ripped each other apart last Endgame. It was an incredible match and it's no wonder Kermit got injured.
Banter: And yet Freya didn't?
Tex: I don't think Freya's ever been sidelined with an injury since she debuted.
Banter: Don't you think that's weird?
Tex: I don't know...
Kermit grabs Freya and lifts her into a vertical suplex. He floats over and pins...
One...
Tw..not enough!
Kermit lifts Freya again and muscles her over to his corner. He lays in some forearm shots and then tags Inferno. The giant steps through the ropes and grabs Freya roughly, lifting her into a butterfly suplex. Kermit stands motionless in the corner for a moment, before deciding to return to the apron. Inferno mounts Freya and lays in right hands, but she rakes at his mask and rolls free. Inferno tries to rise, but she kicks him in the throat, sending him bouncing across the ring. As he picks himself up, she bounces off the ropes and hits a seated dropkick. Darkness is asking for the tag, but she just gives him a half smile and whips Inferno into the corner.
Tex: It looks like Freya wants to win this one single-handedly!
Banter: I bet it comes back and bites her in the ass. That'd wipe that annoying smile off her face.
Freya charges and looks for a monkey flip, but Inferno recovers himself and gets a two-handed grip around Freya's throat. He steps out of the corner and then hurls her to the canvas. He goes for a cover...
One...
Two...
No! Freya kicks out!
Kermit is looking antsy in his corner as Inferno signals and whips Freya across the ring. As she comes back he grabs her and drives her into the mat with a side slam. He goes for another pin...
One...
Two...kickout!
Kermit is reaching out for a tag now, but Inferno ignores him and wrestles Freya into one of the other corners. He ducks down and drives his shoulder into her gut once, twice, three times. Freya is staggered, and Inferno lifts her up onto his shoulders.
Cain: Freya could be in trouble here!
But Freya recovers herself and spins free, grabbing Inferno's head on the way down and driving it into the mat with a modified DDT. Inferno bounces across the ring and lands in the ropes. He picks himself up slowly as Freya heads over towards Darkness to make the tag. Inferno reaches his feet and turns, ready to intercept Darkness when he comes in, but Kermit gets a blind tag and jumps over the ropes.
Tex: Kermit just tagged himself in! He wants a piece of Freya!
Banter: Yeah, and I bet I can guess which piece.
Seeing Kermit has entered the ring, Freya stops short of tagging in Darkness and instead charges him, only to walk right into a powerslam. Kermit lets the momentum bounce him up to his feet and then lays into Freya with furious stomps. He bares his teeth and continues his assault as the crowd boos him loudly. With a snarl he starts to taunt Freya.
Cain: Kermit is getting some payback for being sidelined with that back injury for so long!
Tex: This is not exactly gentlemanly behaviour from Kermit here...
Banter: Was it gentlemanly when Freya injured him?
Tex: Well to be fair, she isn't a gentleman...oh, hold on here! I think Darkness has seen enough!
Kermit is spun around by Darkness's prosthetic hand on his shoulder and then gets floored with a thunderous blow from his good one. Kermit paws at his nose as he tries to recover and Darkness helps Freya to her feet. She pushes him away and dusts herself off, but is suddenly interrupted by Inferno launching himself at Darkness. He knocks him off his feet, but now it's Freya's turn to come to the rescue as she hits an enziguri and knocks Inferno down.
Tex: This match is starting to break down!
Darkness picks himself up and the referee tries to usher him back to his corner. Darkness obeys the official, but suddenly Kermit reappears and this time he has a steel chair with him. The referee flees and Darkness dodges the weapon. Kermit is swinging wildly to the left and right, and Freya has already made herself scarce. Darkness swings himself out of the ring and backs away up the ramp.
Cain: What's going on here? Kermit has murder in his eyes!
Tex: I think the stress has gotten to the number one contender. He looks like a man with a lot on his mind.
The referee looks confused and scared as Kermit looks for a target. The only person he sees though is Inferno and, narrowing his eyes, he apparently decides that he'll do. Inferno reaches his feet, and Kermit is on him, smashing him over and over again with the chair.
Banter: Whoops! I think Kermit slipped!
Tex: Kermit is taking out his frustration on his own partner! This man is dangerous!
The referee, having lost control of the match, calls for the bell.
Cain: The official has thrown this contest out. It's completely broken down.
Sammy Eubanks: Ladies and gentlemen, Kermit has been disqualified. Therefore, your winners...DARKNESS AND FREYA!
Darkness and Freya walk backwards up the aisle as Kermit lays into Inferno, but the monster is fighting back, and gets to his feet, seemingly daring Kermit to keep attacking him. Suddenly, the crowd erupts as a figure runs onto the stage.
Banter: Who's that?
Cain: It's Matt Strikmore!
Banter: Oh. What does he want then?
Strikmore dashes past the bemused Darkness and Freya and dives into the ring. He comes up behind Kermit and grabs the chair out of his hand as he rears back for another strike. He wrestles it free and hurls it to one side, allowing Inferno to roll out of the ring and slump to the floor outside.
Banter: I don't get it...
Tex: It looks to me like Strikmore is doing the honourable thing and preventing his opponent from being injured before their match at Stranglehold.
Banter: But why? Isn't that a terrible idea?
Cain: This is Matt Strikmore, Banter...
Banter: Right. I forgot he was an idiot.
Kermit sneers and immediately starts getting in Strikmore's face, pushing the former Transcontinental Champion away. Strikmore raises his fists, ready for a fight, but Kermit shakes his head and backs away...
Tex: Uh oh...
...right into Darkness, who is back in the ring. He turns around, but Darkness is faster and grabs him by the throat, lifting him up and driving him into the mat with a Slayer Slam.
Cain: Darkness has taken out Kermit ahead of their match at Stranglehold! Strikmore saves Inferno from a beatdown! This is a chaotic situation!
Tex: And I doubt Stranglehold is going to make it any simpler!
Darkness and Strikmore exchange a brief nod over the prone Kermit as Inferno uses the apron to pick himself up and, on the ramp, Freya folds her arms, shakes her head and gives Darkness a wry smile.
<center><object width="425" height="355"><param name="movie" value="http://www.youtube.com/v/eSpDVcVKsXE&hl=en"></param><param name="wmode" value="transparent"></param><embed src="http://www.youtube.com/v/eSpDVcVKsXE&hl=en" type="application/x-shockwave-flash" wmode="transparent" width="425" height="355"></embed></object>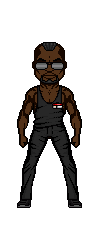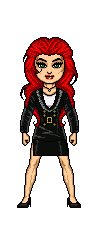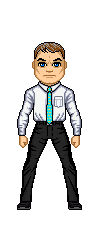 </center>
Valerie Stern is on the ramp again, although this time, Jason Fragg has been replaced by security head Russell Simmons.
Stern: Well, well, well. If it isn't my favourite TCW stars! Well, one of you isn't technically a star at this point, but I'm certain you'll win that match against the man you just saved. And to make things a little more interesting, to put a little more fire in that man, Inferno, your match at Stranglehold is going to be for the TCW Transcontinental Championship!
The crowd cheers loudly.
Stern: Anyway, as I mentioned, one of you is certainly not a TCW employee. Mr. Strikmore, what is it that possesses you to continuously enter my ring and interrupt my shows?
Let me make this clear to you one last time: You are not a TCW employee and therefore have no busniess being in the ring or even on camera until your contracted match!! And Darkness, aiding and abetting such rule-breaking... I would have expected more from you.
Banter: I wouldn't!
Stern: You all know Mr. Simmons, head of TCW Security. He's going to help me take care of this little mess now.
Simmons signals towards the ring, and a string of security guards rushes in from the ramp, backstage, the crowd, everywhere, flooding the ring, surrounding Strikmore and Darkness. Stern and Wilson turn and exit the ramp.
The force of guards quickly begins to subdue Strikmore and, with a little help from a taser, Darkness as well.
Tex: This is flat-out wrong! Stern has taken down Strikmore and the World Champ!
Banter: How's it wrong? Strikmore broke the rules, and Darkness helped him! They're in the wrong here!
As the guards begin to haul away Darkness and Strikmore, they conveniently leave a path open. Inferno takes advantage, landing a few choice punches on Strikmore's already beaten body.
Cain: Oh come on! This isn't justice!
Tex: Hopefully Darkness and Strikmore will be well enough at Stranglehold to send a strong message back to Stern! We're outta time, folks! Have a great night and don't forget to visit TwistedExperience.com to post your thoughts on tonight's show!